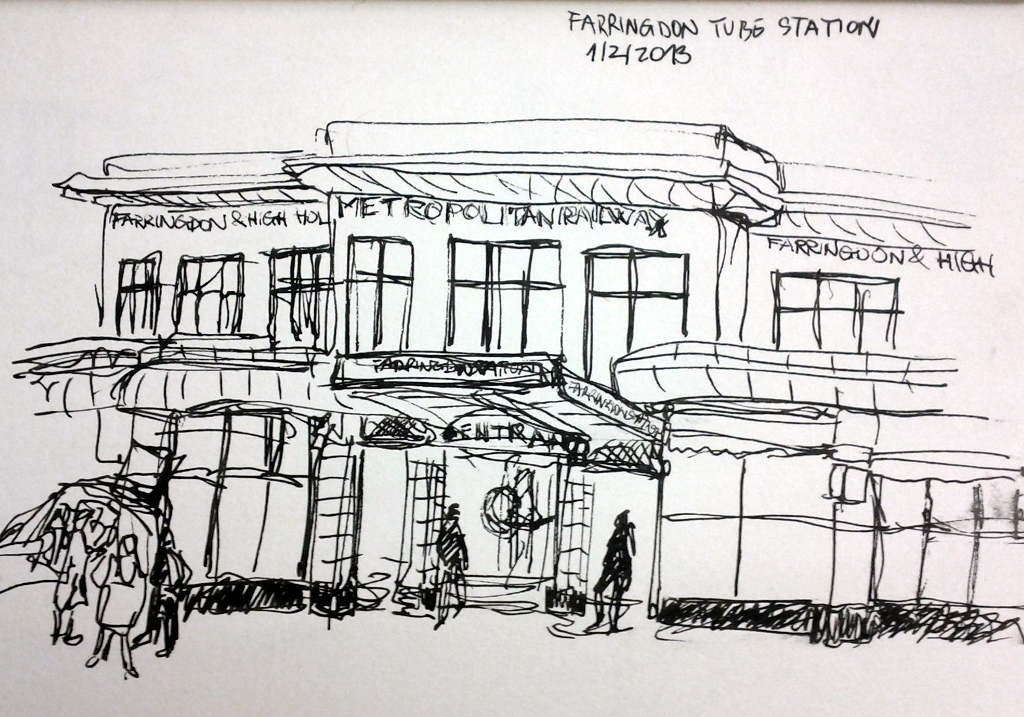 What the text on the station building actually says: Farringdon & High Holborn - Metropolitan railway
Today's been a trip-down-the-memory-lane day, as I had a meeting in Farringdon, pretty close to where I used to work when I first arrived to London aeons ago. I arrived early so decided to inaugurate my new A6 sketchbook with this clumsy drawing of the Farringdon tube station. It has all sorts of perspective errors but I hope you'll forgive me, as even though it wasn't anywhere near as freezing as when the sketchcrawl, it was still a bit cold, and I'm not used to holding this sketchbook yet.
Besides, I noticed that the paper reacts differently to the paper of the previous brand of sketchbooks I was using. This one doesn't absorb the ink as quickly as it seems smoother and more polished, and although it converts my simple uniball drawings in beautifully black drawings, it also needs more time to dry... and so some areas are smudged because I inadvertently touched them with the sleeve before they were completely dry. Must have that into account.
It's odd because I already used one of these sketchbooks a couple of years ago (it's the sketchbook I brought for my London-NY travelogue) and i don't remember having this sort of problems. Unfortunately I don't have the older sketchbook handy. I must compare them whenever I am back in Spain...
comments powered by

Disqus