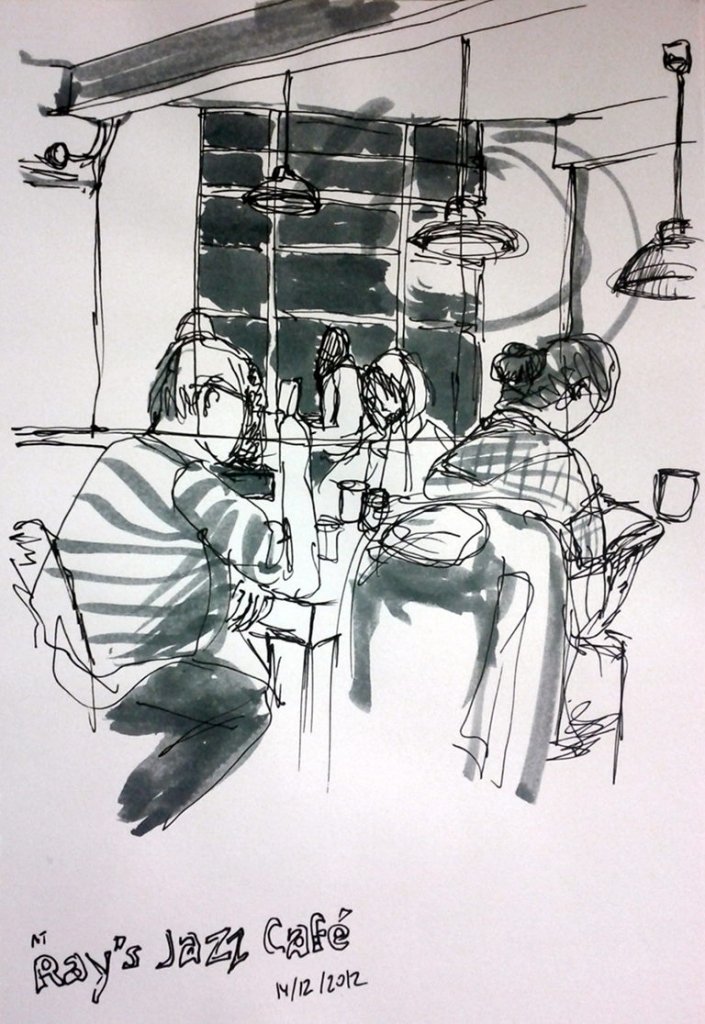 This one is actually somewhat "old", as it was drawn in December, but I hadn't had time to "scan" and upload it yet. Be warned that I have some more "old" 2012 sketches in my Desktop ready to be uploaded, so you'll be finding sporadic oldies here for a while.
I really like this sketch. For once, I did leave some breathing space and margins, and managed to leave open figures. I think it gives a nice bit of spontaneity to the drawing. It's probably helped by the use of the watered down ink I applied too. Brushes generally make things look better :-)
Maybe I also like this drawing because it reminds me of that evening. Flying from warm Barcelona with terrible coffee and even worse carrot cakes, I came into a cold London and met here --at the Ray's Jazz cafe at Foyle's-- with one of my best friends for some delicious flat white and equally yummy carrot cake. We sat on benches by the windows with the hope of getting some views of Charing Cross Road but there was so much condensation we ended drawing smiling faces on the window pane instead. Since it was on the run up for Christmas, there were some cute light bulbs on the windows, giving it the usual yellowish hue that tints good memories when we look back...
comments powered by

Disqus