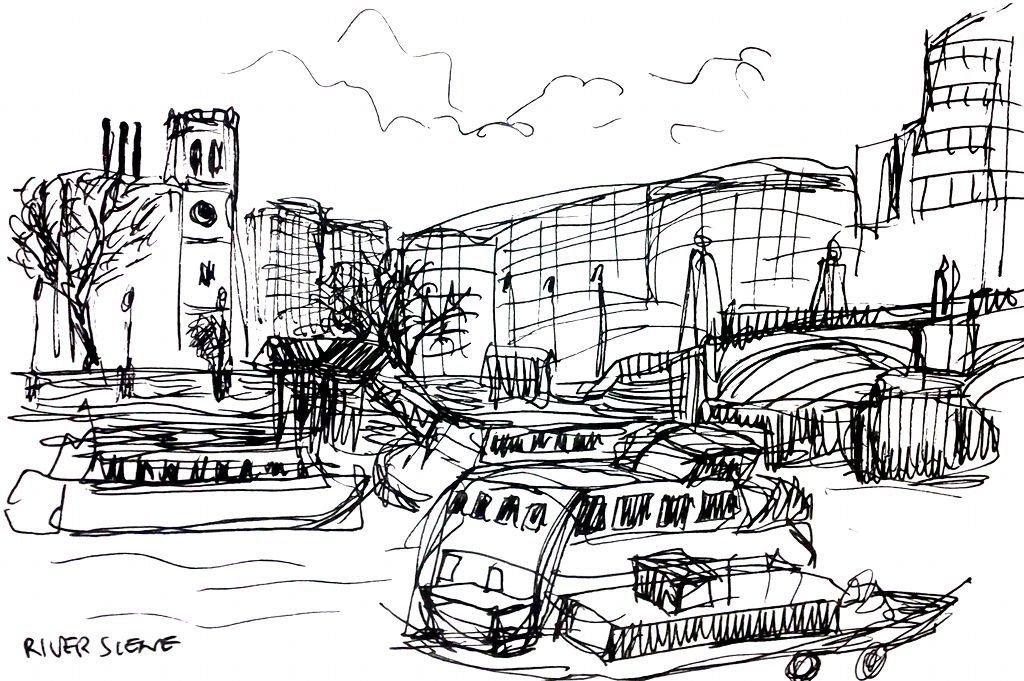 And after sketching the Buxton Memorial, I've turned my back to it and sketched a river scene--which is what most people would have done in the first place, I guess!
You can "see" the Riverside cafe on the opposite shore (the small sort of cottage nearby the river), the Albert Embankment, part of the Lambeth Bridge, trees, boats, a building which sort of resembles a mixture of church and castle and I have to find out what it is actually, and more modern buildings.
There are many elements on the scene so I tried to not to focus on any of them particularly and do a quick, spontaneous drawing. Some things are a bit out of proportion and even way more out of perspective, but I've enjoyed the time there; the morning sun could reach my face between the still naked trees, although some leaves are already starting to sprout: spring is about to arrive! I can sense it! And for some reason, I like the way it smells close to the river; I feel a sense of sea-ness which might simply be the dampness emanating from the mud when the tide is low, and confusing my nose and making it believe it's smelling the distant sea. A couple of weeks ago it was so cold that I couldn't smell anything.
After waiting for the ink to dry, I've dared crossing the bridge, but it wasn't as windy as I feared it would be, so it's been a nice walk. A pity the Riverside cafe was so crowded; I was sort of hoping to be able to sit inside it and sketch the Houses of Parliament while having a tea but alas it was full to the brim. Some people were even having some "Full English Brunches" sitting outside but the views of the Parliament from there are close to zero. I might come back in a few weeks time when it's warmer--and if it's full again, I can have a coffee from the pop-up coffee stall that is installed from time to time, and sit on one of the benches while drawing the Houses anyway :-)
All in all, a magnificent day!
comments powered by

Disqus