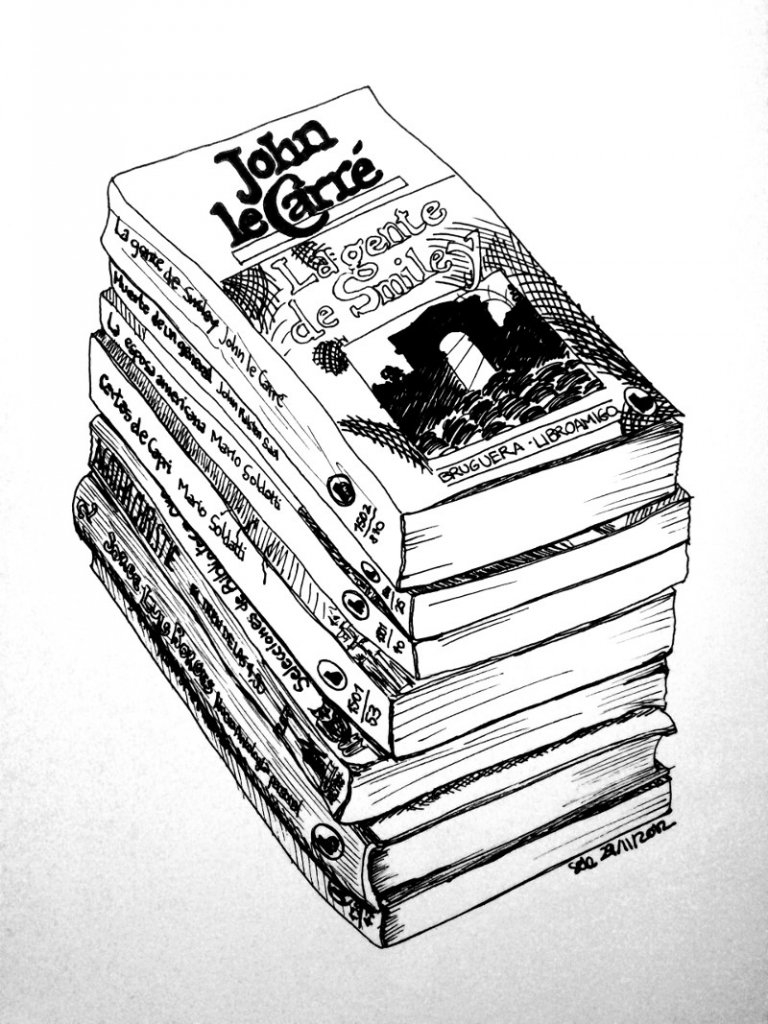 I went shopping and when I came back I found a bunch of old and abandoned books in the entrance of our mansion block.
So, as a proper bookworm, I've adopted them--but only after inspecting them. Just in case someone was trying to trick me into picking a Catholic-apostolic bore, because a couple of weeks ago there were two other books in the entrance, but both were a sort of Franco-doctrine brainwash and I wasn't able to go past the first pages ;-)
I thought these were older, but to tell you the truth they are only a bit, but only a little bit, younger than me (two and three years). Almost all are from 1981. And apart from one who belongs to the Editorial Molino, the rest are all from Bruguera, when their "Libro Amigo" meant pocket book. Ah, the memories!
These are the books:
- John le Carré - La gente de Smiley
- John Ralston Saul - Muerte de un general
- Mario Soldatti - La esposa americana
- Mario Soldatti - Cartas de Capri
- Agatha Christie - El tren de las 4,50 (a hand-written note denotes a selling price of 25 pesetas)
- Jorge Luis Borges - Nueva antología personal
- John Hawkesworth - Arriba, abajo
Finding these books has brought very nice memories back, as I was holding in my hands books from these disappeared publishing houses. The cover styles, those authors, so trendy back then... I can easily picture seeing this sort of books in my house when I was a child! And I like this even more because casually I wanted to read some Borges for some time. And now I've got his "new personal anthology"!
I must confess I've only read one book by Christie ("Nemesis"), but hey, bought in a second hand shop close to Charing Cross. They're specialised in detective and mystery topics. PRO PRO PROfessional. I have no clue about Soldatti, Hawkesworth or Ralston Saul, and I think I might have started reading something by le Carre some years back but didn't finish it, don't know why. In contrast, I did read Borges, but only short stories. The one I remember was the one where he describes a sort of library quite similar to the Internet we all know about nowadays.
In the aesthetics side, it has really surprised me that the "Colección Naranja" books were SO SIMILAR to the covers of Penguin Books. Actually in fact I was absolutely confused at the beginning: books in English, abandoned in my block?
These follow a very similar design, with Helvetica in the spine showing the title and author in bold, and the characteristic black cat plus the book issue and the collection at the bottom. On the other hand, the cover illustrations don't follow any particular style, featuring distinct typography and photography choices in each one. Some of them are really tacky--they didn't manage to copy Penguin that well! ;-)
After drawing them with pencil and examining them carefully, I decided I wouldn't add colour to the drawing, because that would be a cheaper technique, way more appropriate for the PULP and pocket style of the books themselves. So I've used only two black pens from Uniball (0.5 and 0.7mm), and that's all. Maybe I could have used Indian ink too, but I wasn't really feeling like getting too messy. Plus I've made the drawing on cheap paper too, so it was better not to risk making a hole with the nib if the paper got too wet!
comments powered by

Disqus